Positive Phase 3a Data For Oral Semaglutide Formulation Should Help Drive Novo Nordisk's T2D Drug to Blockbuster Status, says GlobalData
NEWS RELEASE

For immediate release 28 June 2018
Following today's news (Thursday 28 June) that Novo Nordisk achieved positive top-line results in its Phase 3a trial for oral semaglutide in type 2 diabetes patients,
Tom Moore, Healthcare Analyst at GlobalData, a leading data and analytics company, offers his view:
''Novo Nordisk has been able to further strengthen its type 2 diabetes (T2D) portfolio today with results that an oral formulation of the drug has demonstrated statistically improved reductions in weight and HbA(1c) versus a placebo in T2D patients. The drug, which was approved in the US under the Ozempic brand in February this year, is administered as a once-weekly self-injectable. Reformulation of the drug as an oral pill is likely to be well received by patients and physicians, and could help cement the drug as one of the leading medications in the T2D treatment landscape.
''The T2D drug pipeline is very strong, and there is set to be significant growth in the overall market size during the next five to ten years. As a GLP-1 receptor agonist, semaglutide faces competition from an array of other injectable drugs, including Novo Nordisk's own blockbuster, Victoza. The convenience of oral administration could therefore provide semaglutide a competitive edge in a burgeoning market. GlobalData expects this to help drive the combined semaglutide brands to blockbuster status, with an estimated $2.8 billion in T2D sales by 2026.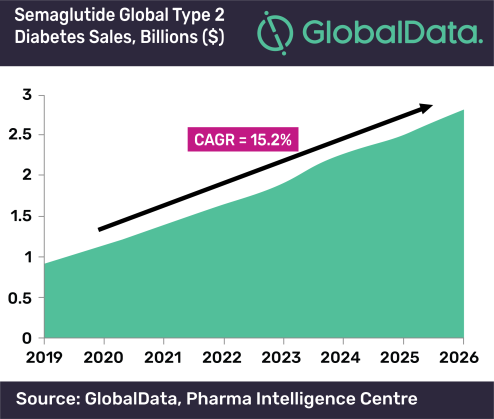 IMAGE FOR PUBLICATION: Please click here for chart: Semaglutide Global Tupe 2 Diabetes sales, Billions ($)
''Novo Nordisk will also be hoping to pick up further sales for its semaglutide brands through label expansion into further indications. The drug is currently in Phase 3 clinical studies for obesity, and Phase IIb clinical studies for non-alcoholic steatohepatitis (NASH), and the drug is expected to have launched in both of these indications by 2025. With GlobalData expecting these disease markets to experience high growth over this time, Novo Nordisk can expect to receive significant combined sales for the semaglutide drug franchises.''
ENDS
For more information
To gain access to our latest press releases: GlobalData Media Centre
Analysts available for comment. Please contact the GlobalData Press Office:
EMEA & Americas: +44 (0)207 832 4399
Asia-Pacific: +91 40 6616 6809
GlobalData.com | LinkedIn | Twitter
About GlobalData
4,000 of the world's largest companies, including over 70% of FTSE 100 and 60% of Fortune 100 companies, make more timely and better business decisions thanks to GlobalData's unique data, expert analysis and innovative solutions, all in one platform. GlobalData's mission is to help our clients decode the future to be more successful and innovative across a range of industries, including the healthcare, consumer, retail, financial, technology and professional services sectors.